Unique blends of superfoods with Boost Yourself
It's not a diet. It's a lifestyle.
That's the slogan from this really health orientated company from Estonia.
I checked out many superfoods and know lots of them in the meantime. I am real superfood addict :op. My kitchen is overload and I really recommend to implement superfoods in your diet because you get so much health back and they are so easy to handle in the kitchen.
I like to introduce you to Boost Yourself (what an amazing company name. Unfortunately I don't have a heart smiley in my WordPress I can add).
I meet Boost Your Self on Instagram and was really excited from their idea to create blends of superfoods. Every blend have its specific functions and health benefits.
Sven, Teet and Helena are young enthusiastic people who really love smoothies and like to bring their passion to smoothies and wellbeing into life. I love the idea and was immediately in love with their work.
That's the reason why I support them and why I support their wonderful products. I really don't accept every cooperation inquiry (if I would I would get a burn out immediately :op). I like to support trustful companies with heart. With the same passion of a healthy living like me. Who are full of motivation to bring the idea of a healthy living into our hearts.
You find lots of information on their Website. They write an own blog with lots of healthy tips and introduce you to several healthy living people. They have a DETOX SUPERFOOD BLEND, a WORKOUT SUPERFOOD BLEND and a BALANCE SUPERFOOD BLEND.
You can buy them separate or in a special box on a special price.
I checked out their Workout Superfood Blend for Smoothies because I practice a lot of Yoga and Jogging and love to have the best blend after my workout.
Workout blend is an energizing superfood blend designed to support your body after physical activity. It helps your body with recovery, boosts energy, fight fatigue and promotes lean muscle gain. It's formulated to make your workout more efficient. When you consume carbohydrates and protein in liquid form, your body easily processes the nutrients, meaning your cells receive the nutrition expediently.
Find a recipe for a Workout Superfood Blend Smoothie: Carrot Banana Smoothie
Find more information about: Workout Superfood Blend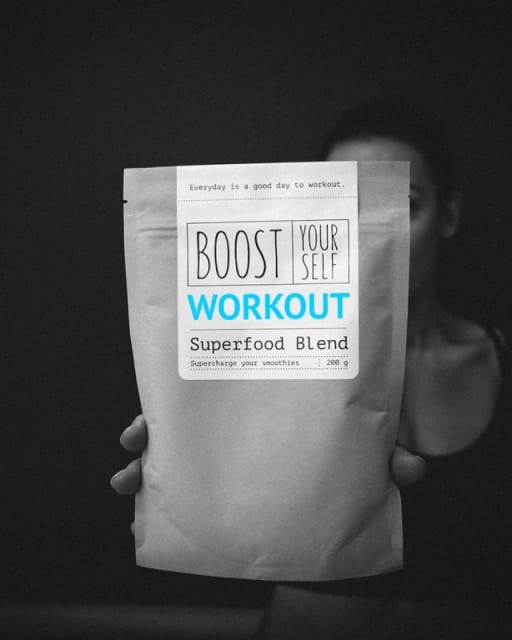 Energy Boosting Yerba Mate Tea
But not only their blends are really special. What I really love is their YERBE MATE (Now I need again the smiley with the hearts in his eyes). Mate have all the great benefits from coffee and tea. It stimulates and improves your wellbeing.
I love to have a more healthy option to coffee. The health benefits of that YERBE MATE is:
• Gives you more energy
• Enhances your ability to focus
• Reduces appetite
• Helps control your weight
• Fuels body with vitamins and minerals
• Aids digestion
• Reduces stress
Find more information about: YERBE TEA

This post is also available in: Deutsch