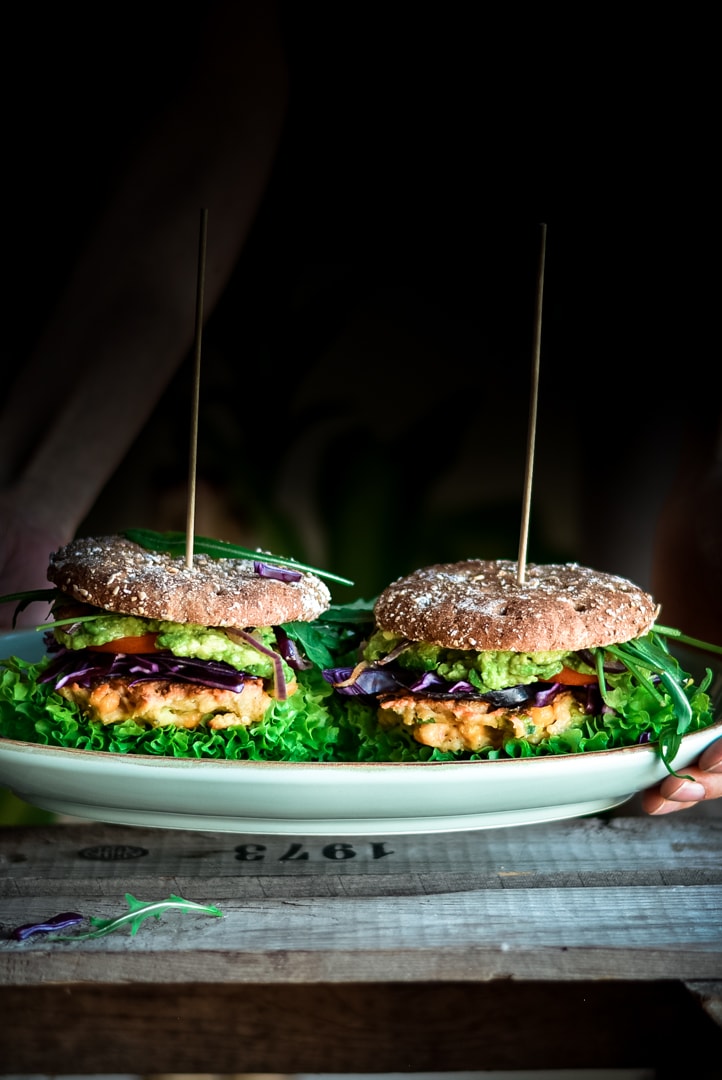 A healthy chickpea Burger
I love to introduce you two of our absolutely new best friends. Mr. and Mrs. Chickpea Burger! We met each other 4 weeks ago and decided to continue a close relationship for the rest of our life. Both are so delicious, easy to prepare and ready to enjoy a wonderful evening together with friends or your hubby. Both are really sociable comrades.
Vegetarian or vegan Burger are one of the meals we prepare very often. We made our own natural potato fries and can experiment with different sauces and vegetables. Sometimes we bake our own buns and sometimes we buy ready toasties. You can easily use the Toaster to roast them and warm them up! Depends on the time we have. The potato fries are so easy to prepare. I recommend to bake them with peanut oil because of the light peanut flavor. Season with Salt and Pepper – Ready!
Mashed Avocado and Peanut Sauce
Mashed Avocado and Peanut Sauce (I used this one from earthyandy) works very good to this healthy crispy chickpea patties. The peanut sauce was a left-over from my rainbow rice rolls we made. We are really surprised it works so good with this burger. So we decided to save this recipe until the rest of our life. That's the reason you find it here ;).
The patties are made from chickpeas, tahini and spring onions. The cumin gives the special flavor. Oh, I really love cumin. I could eat it in every meal. For frying I often use coconut oil. Take care you use good high quality organic oil. There are a lot of differences between the different brands.
Mr. and Mrs. Chickpea Burger
Author:
nutsandblueberries
Ingredients
6 patties
800g chickpeas, canned
100g spelt flour
2 tbsp tahini paste
1 organic egg (if you prefer vegan use 1 chia egg)
2 tsp ground cumin
2 tbsp coconut oil
150g natural yoghurt
Salt and Pepper
6 spring onions, chopped
To serve
6 Toasties or buns
salad leaves
fried onions
1 Tomatoe
red cabbage, chopped
spicy peanut sauce
I used this one from earthyandy
Avocado mash
I easily mash 2 Avocado with salt and pepper
Potato Fries
I cut potatoes and add peanut oil and bake them 15-20 minutes on 200C until they are golden
Instructions
Prepare all ingredients you need for the serving!
Chop the spring onions in small slices
Mix 400g (HALF!) of the chickpeas together with spelt flour, tahini paste, egg, cumin, yoghurt and salt and pepper
Add the chopped spring onions and other half of the chickpeas. Mix carefully. Add flour when the dough is to liquid.
Head up 1 tbsp coconut oil in a pan and fry the patties for about 5 min each side until they are golden. I use my hands to form them immediately I add them to the pan.
Serve on buns or toasties with Avocado Mash, Tomato, Salads, fried onions and peanut sauce. I start with a salad leave.
Enjoy!
Pin me!